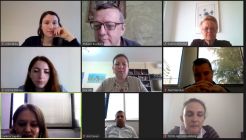 University College Bedër participates in the "Bologna Hub Peer Support" project, coordinated by the German Ministry of Education and Research and the German Agency for Academic Exchange (DAAD) in collaboration with Erasmus +. The project aims to improve the implementation of key elements of the Bologna process in higher education institutions throughout the European Higher Education Area (EHEA).
During the first meeting with experts from Belgium and Switzerland, experiences were exchanged and challenges and opportunities for the development and implementation of practical reforms within the Bologna process were discussed.
After the implementation period, the experts will visit the institution in order to discuss and reflect together the specific challenges presented within the scope of the implementation period.
At the end of the project, all HEIs involved in the project will participate in a final conference together with experts, the project consortium and other stakeholders. The results will be discussed and published in a final paper.