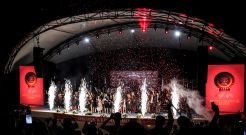 Bedër University College graduated from the fifth generation of students at a ceremony organized last night at the premises of the Tirana Lake Amphitheater. Now that seven years have passed since its inception, Bedër released about 195 new specialists in the field of Justice, Communication, English Language and Literature, Education, Islamic Sciences, Turkish Language and Literature.
Under the moderation of Ilda Xhafa, the ceremony was opened with the greeting speech of Rector of Bedër University College, Prof. Dr. Ferdinand Gjana, who encourages students to strive in the path of knowledge. "If you will strongly believe in your values, our values, you will succeed and you will succeed. You will shine with your inner light, becoming a source of inspiration and hope for everyone around you, "said professor.
Meanwhile, the evening guest, the Head of the Albanian Muslim Community, Mr. Skender Bruçaj, during his greeting speech expressed the pleasure of attending the graduation ceremony of the students of Bedër University College. He praised the students for the successful closure of the studies and motivated them to proceed further in the path of knowledge.
The ceremony continued with the distribution of certificates for outstanding students. Dudi Ilias was rated as the highest student in the justice program; Hysni Cox as the best student in English language and literature; Ornela Klosi in communication sciences; Abdullah Bulku in Islamic Sciences; Besjana Osmanollaj in preschool and primary education; Julian Budran in Counseling and Pedagogy Psychology; Oltina Nicholas in Turkish Language and Literature.
The students with the highest scores, Dudi Ilias and Hysni Cage maintained their greeting speech on behalf of all students.
During her speech, Dudi Ilias thanked the university for the values ​​she has delivered by helping her every step towards success. "What makes the difference is that this academic institution has been established in the name of values, and in their name function and these values ​​are exactly those that serve as a guarantee for fair challenges," added, among other things, a law student, Dudi Ilias.
While the student with the highest achievements at the Department of English Language and Literature Hysni Cazzi during his speech thanked Bedër University College, stressing that during these years he did not embrace the typical teaching model, giving the students the space to reveal their knowledge . "This school has offered us numerous ways to express and improve academically since our activism during lectures through presentations and various projects, to the organization of international conferences of each department that served as an active platform for participation and preparation of students in the professional field ", added among others.
In the end, all graduate students in bachelor and master programs went to the stage to throw graduation hats.