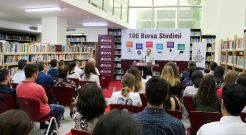 University College Bedër today introduced the project "100 Scholarships", from which young students who will enroll in the second and third rounds for the new academic year 2018-2019 will benefit. Interested students may apply for one of the available scholarships, choosing one of the branches ofered in KU Bedër during these two rounds.
Rector of Bedër University College, Prof. dr. Dr. Ferdinand Gjana said that the most favored for this program are excellent graduates, but also those with certain talents or those who come from different social categories. Interested persons can apply for a scholarship or get information about specific programs, presenting each day at the university facilities.
The "100 Scholarships" program applies for the second consecutive year at Bedër University College. The number of students enrolled during the first round increased by 130% compared to the same period last year.
Currently, the university offers 8 study programs at the bachelor level. Students this year in Bedër will have the opportunity to enroll in two new branches, in Information Technology and Communication, as well as in Public Relations and Communication Marketing.
Programs in which high school graduates can apply for the remaining two rounds and where the scholarships are eligible to:
• Justice
• Communication Science
• Public Relationship and Communication Marketing
• Islamic Science
• Information Technology and Communication
• English Language and Literature
• Psychology Counseling and Pedagogy
• Primary and Primary Education
✔ CONTACT US!
Web: admissions.beder.edu.al
Email: admissions@beder.edu.al
Mobile: +355 67 34 27 001